So you're thinking about using Wix to build your new website. Smart move! Wix makes it super easy for anyone to create a beautiful, functional site with drag-and-drop tools and stylish templates.
But if you're going to invest time in a Wix site, you probably want that sucker showing up nice and high in Google searches. Because what's the point in having an amazing website if no one can find it, right?
This leads us to the million-dollar question: Are Wix sites good for SEO?
It's a fair thing to wonder about. Some website builders make search engine optimization so challenging that you end up banging your head on your desk wondering why getting traffic is so freaking hard. (Not gonna name names…)
But here's the deal – Wix sites hold their own when it comes to SEO potential. With a little extra effort, you can get a Wix site ranking.
Now optimized SEO isn't just going to happen automatically. But by understanding the factors that matter – like site speed, mobile optimization, alt text, etc. – you can overcome some of Wix's limitations.
Let me walk you through why Wix SEO is decent, where it falls short, and most importantly – how to improve it.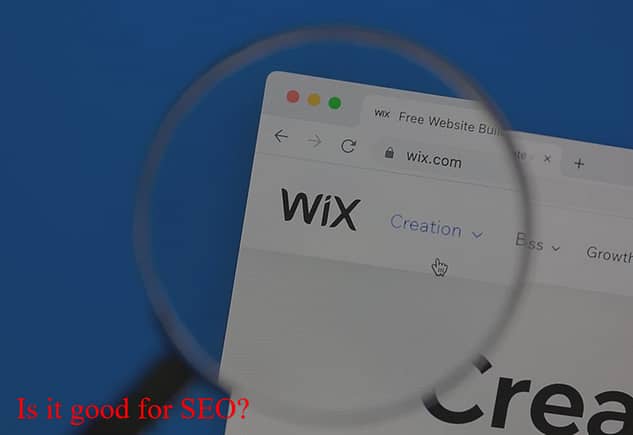 So Why Isn't Wix SEO Great Automatically?
Mainly because Wix sites are built on a closed content management system. Meaning you can't access all the code behind your site. Things like titles, metadata, etc are created dynamically.
This takes some control away from you compared to "open" systems like WordPress where you can fine-tune every element.
But fear not! With the right plugins and optimization strategies, you can still customize on-page elements for SEO.
What Does Wix SEO Do Well?
Now for some good news. Here are areas where Wix naturally has SEO benefits:
Wix sites are optimized for mobile out of the box. This is huge for Google rankings.
Pages load at lightning speed due to built-in caching. Quick load times impact SEO.
Adding alt text for images is super simple. And alt text helps with image SEO.
Their built-in blog is easy to use and great for hosting SEO-friendly content.
So as you can see, Wix gives you a solid foundation to build upon. But you'll need to take some extra steps to maximize search potential.
Wix SEO Optimization Tips and Tricks
If you're willing to get strategic with it, a Wix site can definitely compete for ranking glory.
Here are my top tips for optimizing a Wix site for search engines:
Research target keywords thoroughly and use them in the content naturally.
Create XML sitemaps and submit them to Google Search Console.
Add page titles and meta descriptions for every page.
Use plugins like SEO Meta Tags to customize page elements.
Create internal links between related content using anchor text.
Set up redirects for any changed or removed pages.
Submit your site to local directories like Yelp for local SEO.
Use alt text on images and optimize it for keywords.
Create shareable schema markup content like recipes and reviews.
See – with the right strategy, you can tackle Wix's shortcomings and make that site magnetic to Google. It just takes diligence and immersing yourself in SEO fundamentals.
But Is Wix SEO Right for You?
At the end of the day, it depends on your goals and commitment level. Ask yourself:
How quickly do you need to rank – is SEO a priority focus?
Are you willing to learn tactics like metadata and sitemaps?
Do you plan to write keyword-optimized blog content?
Can you invest in SEO plugins if needed?
If you are not willing to do this on your own, you can try the best SEO company in Thane to do this for you. Web Design Hub has expertise in optimizing Wix sites to rank better in the major search engines. Contact us Now.